02.10.2017
For news please follow us on Facebook and Instagram @tylehog
Welcome :)
12.04.2017
Today this good looking guy went to his new owner Katarina Strand. Except from being a very nice person, she has experience up to 160 level and World Cup, so we are very plesed with Zlatadors new team mate and wish them all the best!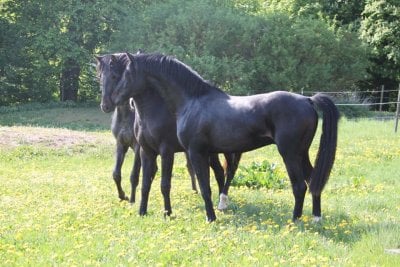 31.01.2016
2016 has been a good year for us and our horses and our youngsters jumping this year, make us feel confident that 2017 will be even better! We wish you all a happy new year and a fabulous 2017!
01.11.2016
New in! A super cutie! Three year old mare by Character (Careful) - Eloge - Caracas. Interesting swedish stallions both Careful and Caracas. Careful hade a lot of good jumpers in the swedish championships for young horses in october. Our mare Starfly (mother of Icaras) who jumped a lot of S and also World Cup, has Caracas as a grand father. He left small horses who loved to jump and they were always fast!
14.10.2016
New in! A four year old out of Satisfaction (Stakkato) and a mare with a lot of placements in S out of Cantus-Capitol. Watch out for our five years olds next year!
13.10.2016
The championships for young horses was a success! Last Romance did four super rounds and not touching a single pole. She is a real champion! Movies are available on YouTube.
29.09.2016
Time flies! During tha last month both the five year old (Last Romance) and the sixth year old (Alessandro) qualified for the championships for young horses, so now we keep our fingers crossed! Cassano HSS did the championships for four year olds with very promising results in Flyinge. We have also bought the niece of Last Romance, a two year old from Conatant Q - Diabeau - Irco Marco. Exciting!
08.08.2016
Back from a great show in Karlskrona! Icaras was placed 4th in both of his classes, jumping clear, convincing and fast! It is surely a lovely little horse with a giant heart! Alessandro did his first 130-class and jumped clear! Last Romance was just as good in her 120 for five yo. Both of them settled thei first qualification for Breeders Trophy in October! A big hurray also for the show in Karlskrona who has put a lot of effort in their out door arena with fiber sand and big surfaces. We will come back for sure!
27.07.2016
New in!
Today this little princess arrived in our stable. A three year old mare from Click and Cash (Cashandcarry-Capitol) - Cardento (Capitol) - Irco Marco. A future star we hope!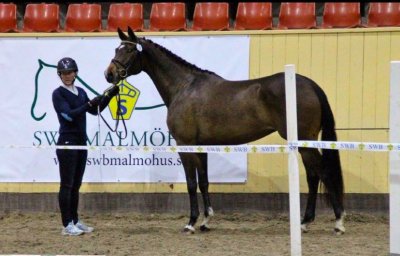 25.07.2016
A good show also this wweken with clear rounds for both Last Romance and Alessandro. Although Last Romance is growing. Again. But she has the perfect height, so why complain?
18.07.2016
It was a good show this weekend! The 4 yo Cassano HSS and Carrero T Z did there first show and both were clear and behaved perfectly! Last Romance did her first show after her summer break and jumped clear, as did Alessandro. Also Icaras did a clear round and won!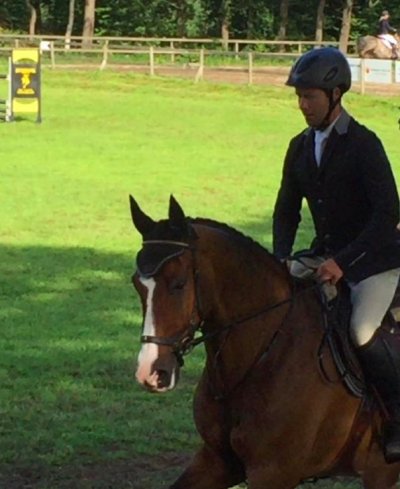 06.07.2016
http://www.tidningenridsport.se/Tavling/Sportnytt/2016/7/EM-lagen-klara/
Miss Cocktail as Jens rode for the family Swartz during 2014 is about to represent Sweden during the Europen Championships with her new rider, Rasmus Nilsson. We keep our fingers crossed for this little adorable mare and her pilot!
05.07.2016
Catch a Star, the whole sister of Cassano HSS, and Iza Wallin (team Baryard) did a great job in Falsterbo! One pole down the first day but a super round day 2 in the 135 and a clear round. Congratulations!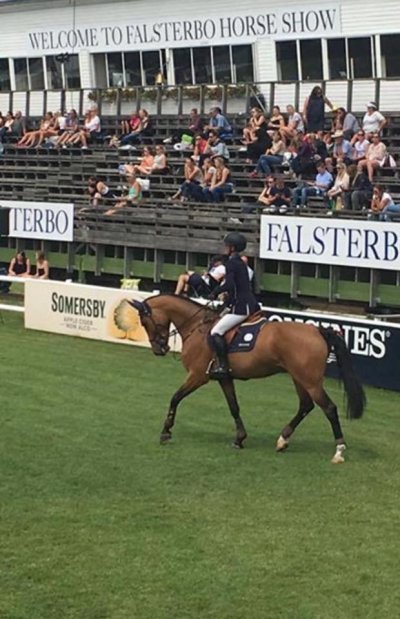 24.06.2016
Wishansa SN has now returned home to her owners. She came to us because they wanted her better educated to get more joy out of her at home. A very inspiring thought that would make the life with horses more fun for a lot of people! Py Jägerden will maintain the showing of the horse up in the north. We wish the whole team the best of luck!
17.06.2016
In the end of the summer our super groom will quit and start to study. So now we are searching for a new nanny/groom. Do not hesitate to contact us if you are interested!
06.06.2016
Last Romance from the show in Romeleåsen 
25.04.2016
Now we have been showing two weekends in a row and the horses are jumping really good. The first show they were pretty fresh, the first outside, but they did it great! Wishansa and Totally Careful did their first show with us and were clear! Below a picture of Wishansa from the second show when it was indoor again. Next weekend it will be outside and grass and yesterday it was snowing.... Fingers crossed!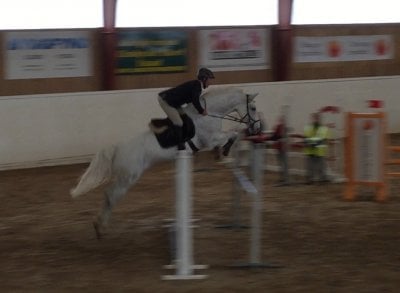 13.03.2016
Now the spring is finally starting to arrive also in Sweden! The stable is full of horses, which is the most certain sign of spring in our business. This was also the first week when it was possible to make a really good canter job with the horses in the outdoor arena. Below you can find Last Romance from todays jumping session, -a front leg technique to die for <3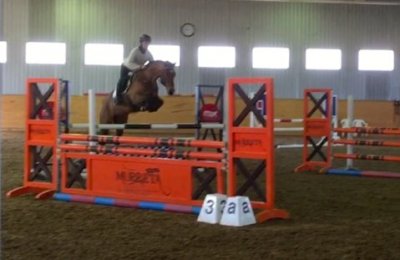 29.01.2016
The horses got a couple of weeks vacation. And so did we! Now the white riding-pants-legs have met the sun for this year so let the show season begin!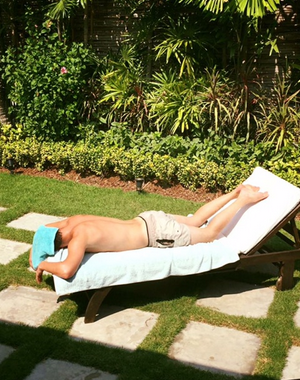 02.01.2016
Today Ascention (Careful-Al Cantino-Cardento) left for her new owner. We wish them all the best!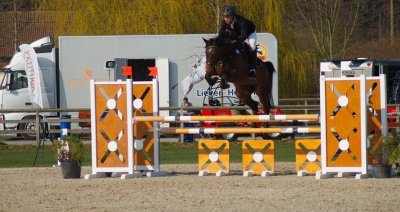 02.01.2016
We are leaving the old year behind us and a new year has begun. 2015 has been a year full of reflections on how to strengthen our core business and how to improve in the future.
We have sold a lot of our own and customers horses. We are proud that those who buy from us feel secure that the horses are what we have promised, that they come back for new horses and that the horses function with their new riders, no matter if they are for pros or amateurs. We also feel compfortable that those who leave horses to us, both for education and to be sold, returns with new horses over and over again and that they get their investments back with a good interest.
The sales of 2015 has made it possible for us to acquire several new young horses. Four of them turned four on new years eve. Let the show begin!
24.11.2015
Well, hello there! New future star arrived this morning. A well behaving three years old from Stakkato-Heartbeat. What can possibly go wrong? :)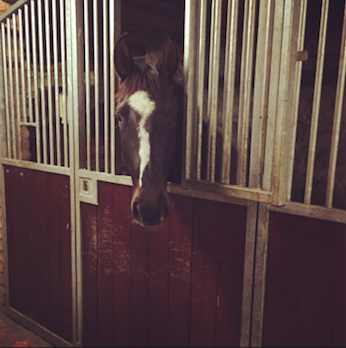 15.10.2015
My Pleasure (For Pleasure-Irco Marco -Carracas) is now sold and has left us in favor for the US! We wish him and his new rider the best of luck! 
04.10.2015
Ooops! Some buy a dress on impulse and some a horse... We were at the Swedish Select Horse Sales-Auction, mainly for watching and to maybe buy a mare with good blood lines for a horse owner. BUT instead we fell in love with a beautiful chestnut gelding with a lot of blood, a nice attitude and a good pedigree Carrera (Cardento - Baloubet du Rouet) - Cero (Calido - Come On) - Hand In Glove xx. Life is full of surprices!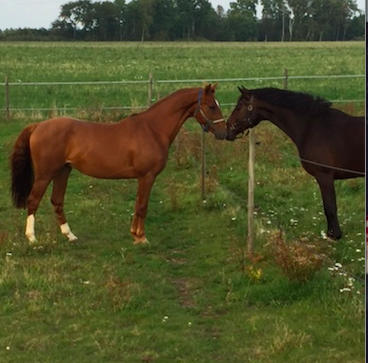 Carrero T Z

19.09.2015
Last Romance did a super semi final in Flyinge for four years old. She was clear, as most of the times, and super cool in the arena. When it gets tough, she gets tougher! That attitude is to die for.
03.09.2015
Our four years old, Last Romance (Canto - Irco Marco - Mowgli), has made her first shows and does it really good! A fantastic balance and a lot of power in the jumps. Shw will do the championships for four year olds this autumn.
18.07.2015
Mia's (mother's/grandmother's/mothers in law's) homepage is now up and running! Except from being a relative she is connected to Tylehög through regularly trainings and training camps here! Please visit for more information www.miapersson.nu
11.07.2015
The training camp was really succesful with happy parents, ponies and riders. After a lot of jumping the final eas to ride with one horse on the side. They thought it was tricky but funny! Like riding in general...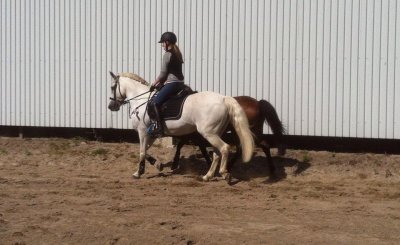 07.07.2015
My Lucky Day did her first round yesterday in Falsterbo. Due to the freshly made grass she slipped in a turn and had one down. Today she had two poles down, but the jumping was good! Now she gets to rest on the field for three weeks and just get fat and happy!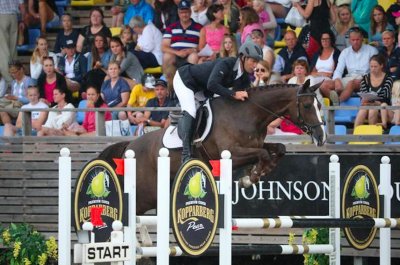 28.06.2015
Now it is only one week left before Falsterbo starts, the greatest show of the year! When we are not riding in Falsterbo we have a training camp at home for some great junior riders. We hope the next week will be as inspiring for them as for us!
20.06.2015
Wonderful pictures from Tara Corr and Catolina MB (ex Conti) e. Catoki u. Olida ue. Calido I, the big sister of Contiki, also bred of the Thurén/Wrede family. We educated her til she was 7 years old and Jens rode her in both Falsterbo and the swedish masterships for young horses. Now she is in the USA  jumping S-classes with a very satisfied and happy rider!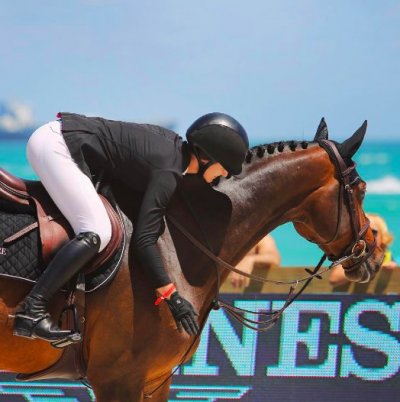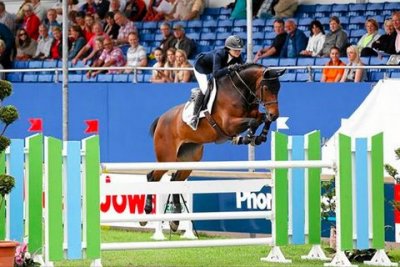 08.06.2015
Contiki who was sold 2013 to Nick Dello Joio, USA, is doing very well in Spruce Meadows. Something we are really happy about! It was a fantastic horse with a lot of character who left a big whole in our hearts when he left us for new adventures. But when everything works out this good, it is twice as fun! Of course we are also very proud since we educated him since he was four years old. Contiki qualified and participated in the swedish masterships for young horses both as 5- and 6-years old and Falsterbo as 6-years old. He was also qualified when he was 7 but left for the USA before the show. Credit to the Thurén/Wrede family who has done a super job wih their breeding through really good mares and always used top quality stallions and as a result repeatedly breeds well behaving super jumpers with a lot of blood! Below a picture of the star and his new rider Nick Dello Joio!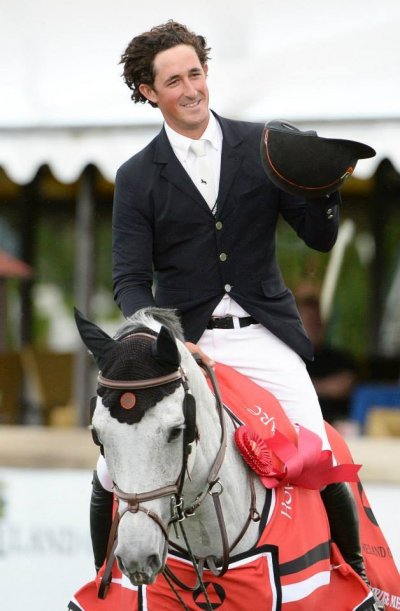 23.05.2015
Icaras started a little bit tenced in the final due to a lot of atmosphere at the arena and 11 out of 31 riders eliminated. After a few jumps he started to breathe and jumped better and better. We are really pleased with him! My Lucky Day was double clear in her 6-year final, top horse!
22.05.2015
Icaras and My Lucky Day are at Norrköping Horse Show. Icaras was placed in the 140 qualification for the 7-star final and both horses are qualified for their finals on sunday. Fingers crossed!
16.05.2015
My Lucky Day did her second qualification for Falsterbo in Skyrup and is now ready for Falsterbo. The day after she was clear again, just to show off ;). Icaras did also a great show, he never disappoints us! He gets stronger and stronger and will soon start S. Slow is fast!
27.04.2015
We are back from Belgium! We were really lucky with the weather and we all now have a nice tan. The horses did great. My Lucky Day debuted 130 and has the first qualification to Falsterbo settled.
22.03.2015
Ascention did her first show ever and managed a convincing clear round! My Lucky Day was also clear.
21.03.2015
Icaras did his first round against the clock in 135. He got a little surpriced to start with but improved during the course in a promising way!
10.03.2015
Today Al Carrera left us for her new owner and country. We hope and belive that they will enjoy each other and have a lot of success!
08.03.2015
We were in Lund the first nice spring day. The horses were really fresh but did nicely.
08.01.2015
A new exciting year begins! Our customer horses start to arrive and getting in shape.
Spara